5 advantages of HVAC duct cleaning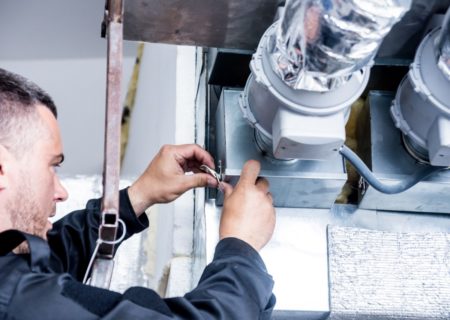 HVAC duct cleaning involves the removal of dust, debris, and contaminants from the ductwork and components of your heating, ventilation, and air conditioning (HVAC) system. Air Ref Condenser Cleaning Corp. provides the below five advantages of HVAC duct cleaning in Manhattan, Jersey City, New York City, Newark, Weehawken, Moonachie and surrounding regions: 
Improved Indoor Air Quality: HVAC ducts can accumulate dust, allergens, pet dander, mold spores, and other airborne contaminants over time. When the system operates, these particles can be circulated throughout your home or building, leading to poor indoor air quality. Duct cleaning helps remove these pollutants, leading to cleaner and healthier air for occupants.

Reduced Allergy and Respiratory Symptoms: Cleaner air ducts can alleviate allergy and respiratory symptoms in individuals who are sensitive to indoor pollutants. By removing allergens and irritants from the ductwork, HVAC duct cleaning can help reduce symptoms such as sneezing, coughing, and itchy eyes, making the indoor environment more comfortable.
Energy Efficiency: Accumulated dust and debris in HVAC ducts can restrict airflow, forcing the system to work harder to maintain the desired temperature. Clean ducts enable better airflow, allowing the HVAC system to operate more efficiently. This can lead to lower energy consumption and reduced heating and cooling costs.
Extended HVAC System Lifespan: HVAC systems that operate with clean ducts experience less wear and tear. When dust and debris are removed from the ductwork, filters, and components, it reduces strain on the system, potentially extending its lifespan. This can result in fewer breakdowns and lower maintenance costs over time.
Odor Reduction: Mold growth or the presence of pests in ducts can lead to unpleasant odors in your home or building. HVAC duct cleaning can eliminate these sources of odor, leaving the indoor environment fresher and more pleasant.

 
In summary, HVAC duct cleaning offers advantages such as improved indoor air quality, reduced allergy and respiratory symptoms, enhanced energy efficiency, extended HVAC system lifespan, and odor reduction. Regular duct cleaning can contribute to a healthier, more comfortable, and cost-effective indoor environment. 
Please call us without any hesitation. You can also drop us an email for further information.