Cooling Tower Cleaning Services In Weehawken, Jersey City, Moonachie, Newark, NJ, New York City, Manhattan, NY, and the Surrounding Areas
Avoid Serious HVAC Issues with Cooling Tower Cleaning
Cooling Tower Cleaning by Air Ref
An HVAC Cooling Tower disposes unwanted heat from your system's water-cooled chiller or water-cooled condenser. They also scrub bacteria, dust, pollen, bugs, and other contaminants from the air when they're operating correctly. Without regular maintenance which includes regular cleaning, these contaminants greatly reduce the efficiency of your system. The reliability of your entire HVAC system may suffer, ultimately resulting in system failure.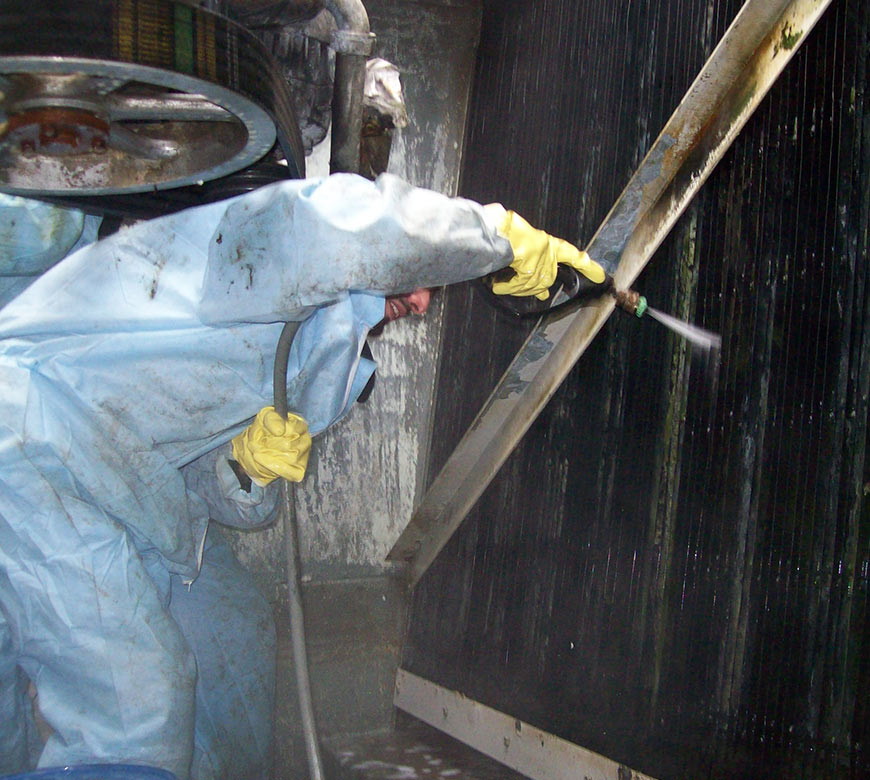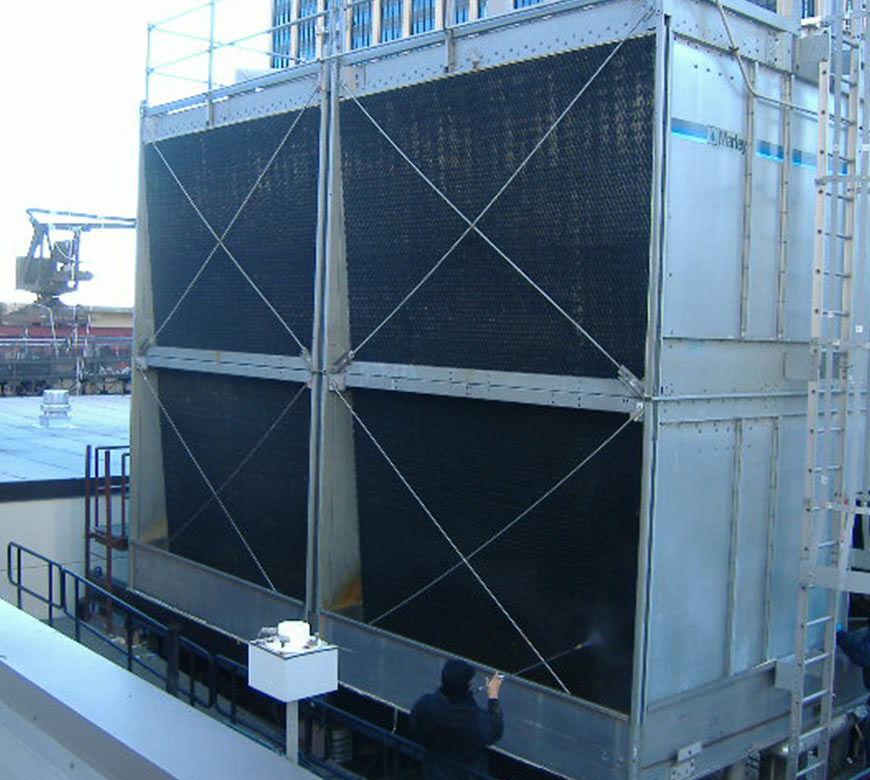 The Dirt on Dirty Cooling Towers
When a cooling tower has fouled fill, plugged spray nozzles, or is coated in dirt and debris that restricts airflow, they can't cool properly. This puts additional strain on fans and pumps because they have to run longer to achieve the required water temperatures. Since the cooling tower can't maintain the desired condenser water supply temperature, the efficiency of the chiller also suffers.
A dirty cooling tower is the ideal breeding ground for biofilms (slime), which can quickly infiltrate the entire HVAC system. Biofilms are microorganisms that grow in a group, held together by a slimy film of microbial secretion. The important thing to remember about biofilms is that they act as a protective barrier for the Legionella bacteria that causes Legionnaires' disease, allowing them to grow uninhibited. Biofilms are bad news for your cooling tower systems. They clog pipes, reduce the efficient transfer of heat, cause microbial corrosion, and promote Legionella transmission. When debris and dirt build-up in stagnant conditions in lines, drains, side stream filters, and other equipment, these places become a favorite habitat to biofilms. When they take root, they're hard to remove, even using high levels of chlorine and other disinfectants.
Keeping Things Cool…and Clean with Cooling Tower Cleaning Services
OSHA strongly recommends a twice-a-year cleaning of cooling towers as part of your HVAC maintenance…and more frequent cleanings if microbiological growth is revealed under inspection. It's also suggested that new cooling tower systems that have been out of service for more than 5 days should be cleaned and disinfected before system startup to reduce the risk of Legionella.
Air Ref delivers excellence in cooling tower cleaning, bringing over 50 years of experience to every job. From Moonachie to New York City, Weehawken to Newark and Jersey, we deliver unsurpassed cooling tower cleaning service to commercial clients. Our technicians are trained to assess your specific system to determine the best method of cleaning.
We take care of it all, including:
Cleaning any strainer systems of debris
Cleaning nozzles to prevent clogging
Deep cleaning cooling towers
Special protocols for systems that require Legionella remediation