Spot Cooler Rentals and Portable Spot Cooling in New York City
Spot cooler rentals are a convenient and energy-efficient option for providing cool air throughout the summer. With its warm summers, New York City becomes more lively and eventful. Uncomfortably hot temperatures, however, can ruin summer experiences, especially for those working in the heat. Portable air conditioners provide the perfect temporary air solution for hot and uncomfortable working environments.
Whether you work in an office or are assisting at an outdoor event, cooler rentals can fulfill your short-term cooling needs. The quick and seamless installation, adaptability to a variety of spots, and temporary additional cooling of portable AC units and spot coolers are a no-brainer for those seeking uninterrupted cooling.
Portable spot cooling solutions can not only improve your working conditions but also offer a cost-efficient way to provide cool air. From large commercial spaces to smaller residences, spot cooler rentals are versatile for any living and working space.
Portable AC and Spot Cooler Rentals in New York City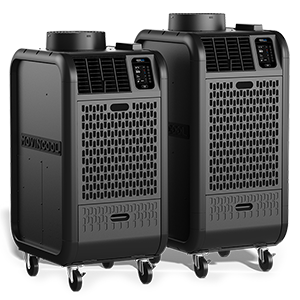 Air/Ref is proud to air-condition spaces across New York City. We are committed to serving all types of properties in the city. We provide spot cooler rental services to residences and businesses seeking a quick and reliable means of air conditioning.
With years of experience in providing temporary air conditioning, we are trusted by New York City locals to meet your portable AC needs and exceed your expectations. We complete every job with unparalleled customer service, efficiency, and reliability.
Our team of highly skilled technicians is trained to deliver and install spot cooler rentals with the utmost professionalism. We aim to meet and exceed your expectations through every service we provide, prioritizing our relationships with our customers.
Portable Air Conditioning Unit and Portable Spot Cooling for New York City
One of the most famous cities in the world, New York City is a melting pot of cultures. Native to the Lenape, New York City has since grown to its population of over eight million residents. With iconic sites like the Empire State Building and Central Park, New York City is the ultimate vacation destination for people all over the world.
Get in touch with us today to learn more about how we can help you and your portable AC rental needs. At Air/Ref, we are committed to providing every spot cooler rental service with unparalleled efficiency and professionalism.