Portable Spot Cooling, Portable AC Rental, and Spot Cooler Rentals in Hoboken, NJ
Any New Jersey native knows how brutal the summers can be, especially without a working air conditioner. If you find yourself needing cooling relief in Hoboken, NJ, Air Ref has your solution. We offer portable AC rentals for commercial properties so they can remain comfortable and operational during the summer heat.
Our services provide relief for all types of commercial buildings, including schools, offices, hospitals, warehouses, restaurants, and even construction sites. Why should you, your employees, and your customers suffer from scorching temperatures when the solution is simple? Count on Air Ref for a dependable portable air conditioner rental.
We have over 100 available units to choose from, each of which offers a distinct design and powerful cooling capabilities. You'll be able to go about your day in comfort and enjoy the peace of mind of having a reliable air conditioner to get you through any Hoboken heat wave.
Contact us today to discuss your rental options with a rental specialist.
Portable Air Conditioning Units in Hoboken
Cooling Anywhere You Need It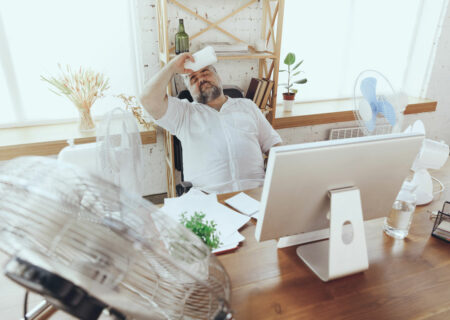 No matter what type of commercial space you run, we have plenty of portable AC rentals to fit your every need. Our wide selection includes models from industry leaders MovinCool and Climate Pro. These sleek, stylish units offer unbeatable comfort while using minimal amounts of electricity.
Your workspace will become much more comfortable with a reliable, portable air conditioner. Air Ref stays stocked with rental units that feature the latest technology, including wireless connectivity. Best of all, top manufacturers design these units to operate quietly so they won't become a distraction while running.
Portable Air Conditioner Rental in Hoboken, New Jersey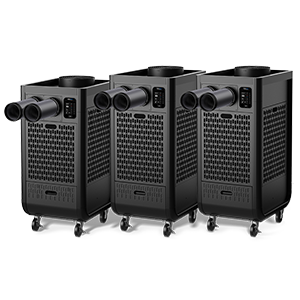 Air Ref operates out of Moonachie, New Jersey, and serves many of the surrounding communities, including the bustling area of Hoboken. Located directly across the Hudson River from Manhattan, Hoboken offers locals a solid balance of city life and quaint charm. Enjoy a walk along the charming waterfront, take in the fresh air in one of Hoboken's many parks, or eat at some of the city's top-rated restaurants.
Hoboken forms a hub for arts and culture and highlights this with many landmarks and annual events. Most notably, it is the birthplace of Frank Sinatra, who has a statue and park dedicated to him along the waterfront.
Why work through sweltering heat and humidity when Air Ref makes quick, cooling relief possible? Contact us today to learn more about portable AC rentals!
Portable AC Rental by Application