Dryer Vent Cleaning in Newark, NJ
Air Ref is here for all your dryer vent cleaning needs in the Newark, NJ, area. Contact us to schedule an appointment today!
Hiring a professional duct cleaning company for your dryer vent cleaning and air ducts ensures the job is done right. Cleaning your lint buildup in dryer vents reduces the risk of fire, increases energy efficiency, and leads to faster drying times. Air Ref uses the best tools and equipment to make sure your clothes dryers are running smoothly.
Dryer Vent Cleaning in Newark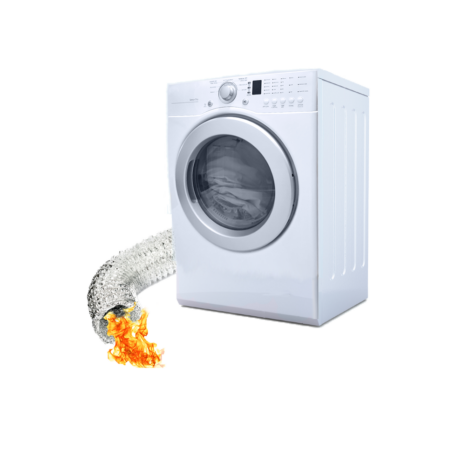 There are many benefits to properly maintaining and cleaning clothes dryer vents and ductwork.
Cleaning your clothes dryer duct ensures the passageways are clear and your machine works properly. Even if you always clean the dryer lint after each cycle, it does not account for all the lint buildup within the system. Negligence in cleaning your clothes dryer vent can result in a fire, which will not only cause property damage but can lead to injury or death.
In addition to keeping your property safe, making sure your dryer ducts are free from dryer lint reduces drying times. The clear vents and ducts allow the dryer to release the heat and moisture to escape faster so the clothes dry quicker. Less moisture in the air duct also means there is a lesser chance of mold developing.
Quicker drying times are not only convenient but also mean a more energy-efficient clothes dryer. Using less energy will save you money as well as reduce the costs of regular maintenance. Having your clothes dryer professionally cleaned means fewer repairs and increases the life of your machine.
Dryer Vent Cleaning for Newark, NJ, Homes, Condos, High-Rises, and More
We recommend dryer vent cleaning every 3 to 12 months, depending on the usage. Properties with multiple units typically require more frequent dryer vent cleaning.
If you manage a multiple-occupant condominium, apartment, high-rise, or commercial laundromat in the Newark, New Jersey, area, it is time to call Air Ref. Air Ref uses the best equipment and qualified technicians to deliver quick and efficient service. Protect your property by scheduling your free consultation today!
Newark, New Jersey, Dryer Vent Cleaning Services
Newark, New Jersey, was founded in 1666 and is now the most populated city in the state with over 300,000 thousand people. Over 100,000 people commute to Newark for work. Newark offers many jobs in the healthcare, government, insurance, and finance fields.
Air Ref delivers the best dryer vent cleaning services in the Newark, New Jersey, area. Keep your dryers safe for use by contacting us today!