Portable AC Rental, Spot Cooler Rentals, and Portable Air Conditioning Unit for Jersey City, NJ
Is the AC in your office building down for repair? Do you need temporary air conditioning for a new construction site? Do your factory workers need additional relief during the heatwave? Do you need some supplemental AC to cool an area in your commercial space that lacks AC? Whatever your portable cooling needs, we can take care of them at Air Ref.
At Air Ref, we have been offering MovinCool portable AC rental in Jersey City for decades. We provide these industry-leading spot cooling and AC rental units for a variety of commercial premises. MovinCool units are manufactured by the renowned manufacturer of air conditioning systems, DENSO. We offer units in many different sizes and capacities to meet your needs.
At Air Ref, we deliver unmatched portable air conditioning unit rental services to Jersey City and the surrounding areas. As a result, we've earned a reputation for excellent customer satisfaction and reliable air conditioner rental services. We also offer HVAC cleaning in Jersey City.
Spot Cooler Rentals in Jersey City
Cooling Anywhere You Need It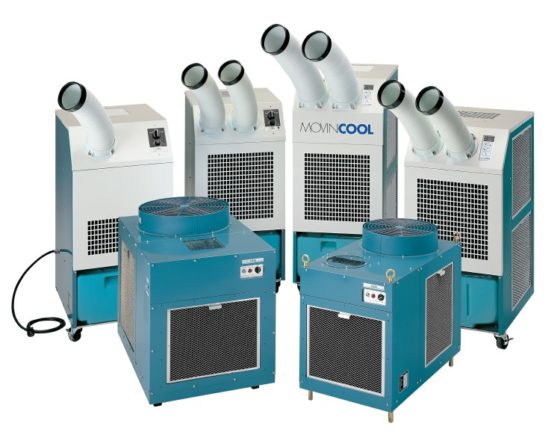 New buildings under construction lack air conditioning units, which puts your builders working long, miserable hours during construction without temperature control ability. The sweltering heat of summer can affect their productivity, health, and work integrity due to the unbearable temperatures.
Air Ref offers portable AC rental in Jersey City on attractive terms to help with temperature control. Our spot coolers ensure that your home or work environment is conducive to and comfortable for work or living. Our climate control equipment meets and exceeds spot cooling industry standards for commercial use.
We've invested in the reliable and durable MovinCool Classic Series of spot coolers from DENSO. Some benefits of our spot cooling equipment including:
Efficient capacity from 10,000 to 60,000 BTU/h for varied applications
Flexible ducts (80 feet) for versatile use
Digital temperature controls for ease of use
Rugged design for great performance
Portable Air Conditioning Unit and Portable AC Rentals in Jersey City, New Jersey
Portable AC units support cost-effective and uncomplicated control of temperature with ease of mobility. Our air conditioning units are ideal for use in temporary application areas. We have 17 models, from 19 to 31 inches wide and from 41 to 64 inches high, to meet your varied needs.
Whenever you need portable AC rental in Jersey City for your business, we've got you covered. Moreover, our AC rental services are affordable for all. View all of our portable air conditioning units today to find the right one for your needs.
Air Ref's Services in Jersey City
Jersey City, the county seat of Hudson County, has the second-largest population of any city in New Jersey, following Newark. The city, which has experienced massive population growth over the years, now has 292,450 people based on the 2020 U.S. Census. The Lenape tribe originally occupied the area, which the Dutch colonized as part of The New Netherland in 1614 as the first Dutch Colony in America. It is now home to museums, parks, and the famed historic sites of The Statue of Liberty and Ellis Island. The city booms with activities and has lots of fun things to do. You can go fishing in local lakes, hiking, or even take walks along nature trails.
Contact us at Air Ref today for portable AC rental in Jersey City, NJ. We provide consultations 24/7, so we can deliver and install the unit you need when you need it.
Portable AC Rental by Application