Portable AC Rental, Portable Spot Cooling, and Spot Cooler Rentals in Paramus, NJ
The last thing you need is to lose several workdays in Paramus, NJ, because of a broken air conditioner. As temperatures skyrocket, it's just not safe to keep employees in a building without temperature control. A hot building is not only dangerous for employees, but it can damage delicate equipment.
As soon as your air conditioner breaks, you need to contact a portable air conditioner rental company like ours. Air/Ref has an expert technician on-call 24/7 for emergencies. With over 40 years in the industry, we have the knowledge and the equipment to restore a comfortable temperature to your commercial building.
Portable Air Conditioning Unit Rentals in Paramus
Cooling Anywhere You Need It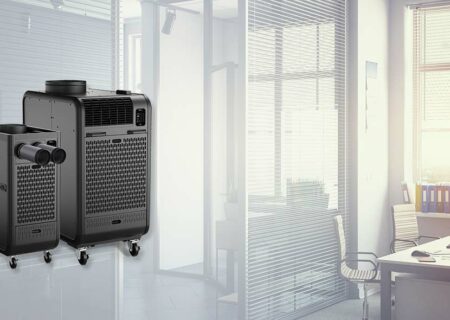 Nothing makes time pass more slowly than a sweltering workspace. It's no wonder that no one can focus on their tasks when the air conditioner breaks. The sooner you contact us for portable AC rental, the sooner we will arrive to install your unit.
We have a portable air conditioning unit for both large and small spaces. Installing an appropriately sized unit is a crucial step in portable AC rental. A unit that is too large cools the space too quickly, making it turn on and off multiple times an hour and driving up electricity bills. A unit that is too small for the space will operate all day without stopping, never reaching your desired temperature.
Whether you need to cool a certain area or the whole building, we will provide the units you need to maintain a comfortable temperature until your regular air conditioner works as it should.
Our technicians will arrive on time and install the portable air conditioning unit without interrupting workflow. Our portable AC units are small so they don't take up much valuable floor space.
Reliable Spot Cooler Rentals in Paramus, NJ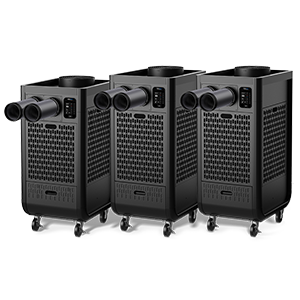 Air/Ref provides reliable, portable AC rental in Paramus and the surrounding areas. We help your employees and fragile work equipment avoid heat damage if your air conditioner breaks.
Paramus, New Jersey, has a population of about 27,000. The abundant farmland in Paramus is partially why New Jersey became known as the Garden State. Music-lovers know Paramus as the point of origin for the glam metal band, Trixter, as well as the punk band, The Escape Engine.
Contact Air/Ref 24 hours a day to schedule portable air conditioner rental and keep your building comfortable.
Portable AC Rental by Application