Portable AC Rental, Portable Spot Cooling, and Spot Cooler Rentals in Hudson County, NJ
Running a business in Hudson County, NJ, requires plenty of hard work and dedication, plus the proper equipment. When your commercial property heats up during the summer months, reach out to Air Ref for a portable air conditioner rental. We offer affordable portable AC rentals to business owners throughout Hudson County and nearby areas.
A portable air conditioner lets your property stay cool so your employees and patrons feel comfortable despite the stifling heat outside. We supply many different commercial spaces with these powerful units, including doctor's offices, hotels, retail shops, and warehouses.
We don't limit our services to just air conditioning. We also provide temporary heater rentals and spot heater rentals for either indoor or outdoor use during cold weather stretches. When it comes to comfort and convenience, there is no one better than Air Ref.
Contact us today to learn more about our portable AC rentals and discuss your options with one of our friendly technicians.
Portable Air Conditioning Units for Hudson County, NJ
Cooling Anywhere You Need It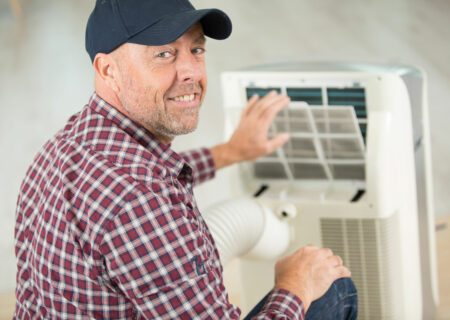 What types of portable air conditioning rentals are available to you? At Air Ref, we have a selection of more than 100 units from top manufacturers. These state-of-the-art air conditioners can effectively cool any space using minimal electricity without making any loud, distracting noises.
Many of our units feature modern technology like wireless connectivity, giving you greater temperature control over your space. We understand the capabilities of all these units and can help you choose the best one for your needs. Then, we'll promptly deliver and install it so you can enjoy all the benefits.
Portable Air Conditioner Rentals in Hudson County, New Jersey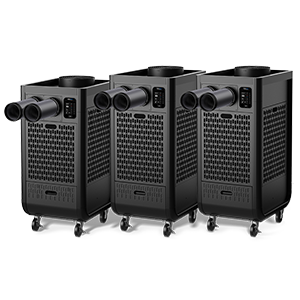 Air Ref is based out of Moonachie in Bergen County, NJ, but proudly offers its services to those throughout Hudson County. Despite being New Jersey's smallest county by land area, it makes up for it with a huge population of more than 292,000 people. Residents have spread throughout major cities like Hoboken, East Newark, and Jersey City.
There's no denying that Hudson County ranks as one of New Jersey's most diverse regions, with people from all walks of life. Enjoy the many outdoor attractions it has to offer, including Liberty State Park and Skyway Golf Course. In addition, residents and visitors find no shortage of fantastic restaurants and shops to check out.
Contact us today to discuss your needs and set up a portable air conditioner rental.
Portable AC Rental by Application